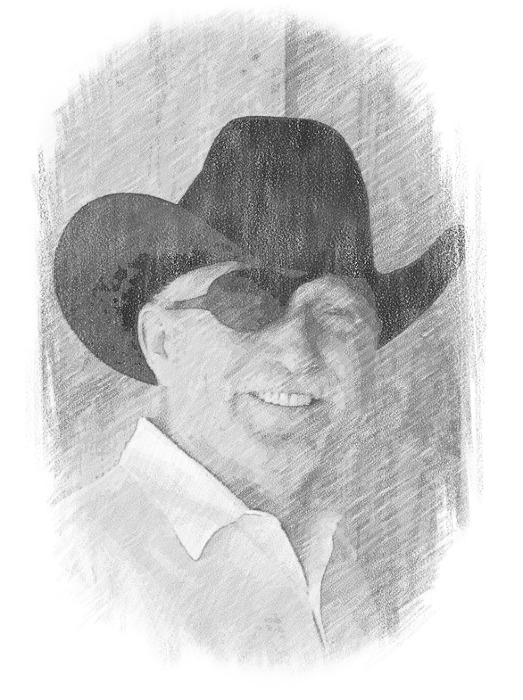 Bill Owen
Bill Owen was born in 1942 in Gila Bend, Arizona to a mother who was an artist and a father who had been a cowboy throughout the early 1900s. These influences shaped his desire to be an artist and cultivated his interest in the cowboy lifestyle. Having inherited the God-given talent, it was only natural he would strive to become an artist who chronicles the lives and works of the contemporary cowboy.
Bill has exhibited at the Whitney Museum in Cody, Wyoming, the Grand Palais in Paris, France, and at the Western Art Show in Beijing, China. In 1993 Bill became a member and staff artist of Rancheros Visitadores and that same year was awarded the Frederic Remington Award for Artistic Merit by the Cowboy Hall of Fame. In 1996 the prestigious Gilcrease Museum in Tulsa, Oklahoma honored Bill as their Rendezvous Artist and at the 2003 Prix de West Invitational Exhibition and Sale he became the first recipient of "Express Ranches Great American Cowboy Award."
Inducted into the Cowboy Artists of America in 1973, Bill has served as CAA President three times and earned numerous medals and awards at the annual show. Two awards that are especially meaningful to Bill are the CAA Award and the Traditional Cowboy Arts Association Award for Best Portrayal of a Cowboy Subject.
In 1989, while practicing for a rodeo, Bill survived a freak accident which resulted in the loss of sight in his right eye, affecting his depth perception and forcing him to give up sculpting. He never allowed himself to consider this loss a handicap but greatly missed the medium for thirteen years, successfully resuming sculpting in 2002.
For all of Bill's artistic achievements, he is especially proud of The Arizona Cowpuncher's Scholarship Organization, which he founded in 1995 to help finance college educations for young people from the Arizona ranching community.
Source: Cowboy Artists of America
Having a Cool One

Artist:

Bill Owen

Date:

1991

Description:

Oil | Image Size: 30"h x 40"w; Framed Size: 40"h x 50"w

Worn Out Rope

Artist:

Bill Owen

Date:

1973

Description:

Oil 24" x 30"

I Perils of the Range

Artist:

Bill Owen

II Perils of the Range

Artist:

Bill Owen

Blood, Sweat & Burning Hair

Artist:

Bill Owen

Date:

1973

His Band of Mares

Artist:

Bill Owen

Date:

2005

Description:

Oil Painting, Image Size: 24"h x 48"w; Framed Size: 36"h x 60"w

Charro

Artist:

Bill Owen

Date:

1983

Description:

Bronze, 9"d x 13"w x 27"h; Edition #4 of 40

Ropin' One In

Artist:

Bill Owen

Date:

1991

Description:

Oil; Image Size: 18"h x 24"w; Framed Size: 27 ¼"h x 33 ¼"w

Moving the Remuda

Artist:

Bill Owen

Date:

1996

Description:

Oil; Image Size: 22"h x 36"w; Frame Size: 36"h x 50"w

Bull

Artist:

Bill Owen

Date:

2006

Description:

Watercolor| Image Size: 10"h x 9"w; Framed Size: 16 5/8"h x 15 7/8"w

Bullhead Tank

Artist:

Bill Owen

Date:

1981

Description:

Oil | Image Size: 24"h x 36"w;

Framed Size: 34 ½"h x 46 ½"w

Cavalry Scout

Artist:

Bill Owen

Date:

1973

Description:

Pencil/Pastel | Image Size: 12"h x 9"w; Framed Size: 16 5/8"h x 13 5/8"w

Cool Thoughts

Artist:

Bill Owen

Date:

1973

Description:

Pencil | Image Size: 12"h x 9"w; Framed Size: 16 ¾"h x 13 ¾"w